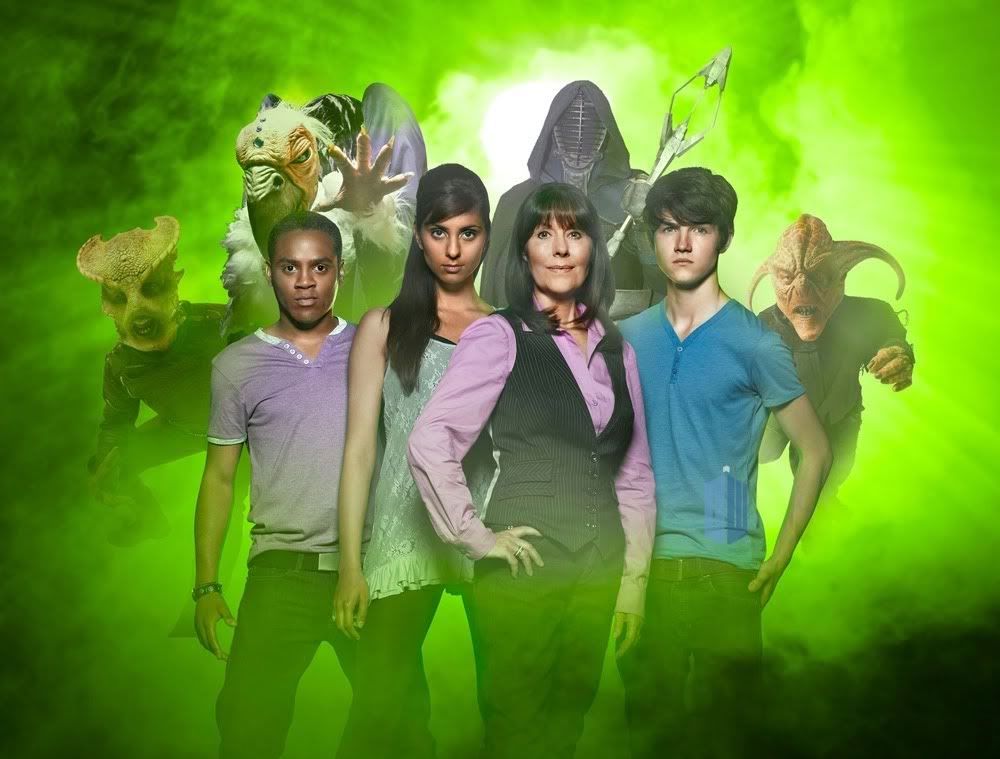 The
BBC Press Office
have now released full details about the forthcoming fourth series of the Sarah Jane Adventures:
The Sarah Jane Adventures returns to CBBC with a host of guest stars, amazing monsters, and a visit from the Doctor
Alien investigator, Sarah Jane Smith, is back on
CBBC
with a fourth series of
The Sarah Jane Adventures
from Monday 11 October.
Created by
Russell T Davies
, the hugely successful Doctor Who spin-off sees Sarah Jane and her teenage gang set off on brand new adventures that take them out into space and back in time to face Nazi soldiers, a Victorian ghost-hunter, and turmoil in the Tower of London.
From their secret attic in Ealing the gang battle enemies old and new, including Androvax the veil, deadly androids, relentless robots and undertaker vultures. Luke confronts his worst dreams when he meets the Nightmare Man; Rani and Clyde wake up to find they are the only humans left on Earth; and in a very special episode, Sarah Jane joins forces with the Doctor's former companion Jo Grant to uncover an interstellar conspiracy that threatens the life of the Doctor himself.
Elisabeth Sladen
returns as intrepid investigative journalist Sarah Jane Smith alongside young stars
Tommy Knight
as Luke,
Daniel Anthony
as Clyde and
Anjli
Mohindra as Rani.
This series also sees a whole host of special guest stars joining the out-of-this-world fun including
Katy Manning
as the Doctor's former companion Jo Grant; Survivors star
Julie Graham
as Ruby White; Primeval and Strictly Come Dancing star
Laila Rouass
as Colonel Karim; former X Factor contestant
Lucie Jones
as Gemma; Smack The Pony's
Doon Mackichan
as Louise Marlowe;
Cheryl Campbell
as Ocean Waters;
Julian Bleach
as the terrifying Nightmare Man, and
David Bradley
(short-tempered Hogwarts caretaker Argus Filch in the Harry Potter movies) as the voice of the sinister Shansheeth.
Best of all, the Eleventh Doctor himself,
Matt Smith,
makes a star appearance in the intriguingly entitled Death Of The Doctor.
Executive Producer
Nikki Wilson
says: "We are absolutely thrilled to introduce Sarah Jane and the gang to both the Eleventh Doctor and Jo Grant, and to have a script written by Russell T Davies is the icing on the cake.
"Viewers are in for a real treat, with an action-packed story full of Russell's usual wit and warmth, which takes the gang inside a secret base beneath Snowdon and introduces brand new aliens, the mysterious Shansheeth. All this, plus a trip to an alien planet – a first for The Sarah Jane Adventures."
Matt Smith says: "The opportunity to appear in The Sarah Jane Adventures came along towards the end of filming the first series of Doctor Who and I jumped at the chance.
"I knew Russell was going to write it, I'm very fond of Lis, she's just lovely, and it's a privilege to be working with two former companions. I felt such a bond working with the actresses and loved picking their brains about working with their Doctors in the past."
Commenting on working with Matt, Lis Sladen adds: "He's such an inclusive actor... He just had a week and he was really, really good. I think people will love it actually."
The Sarah Jane Adventures is executive produced by Russell T Davies and Nikki Wilson and is produced by
Brian Minchin
. Writers on the fourth series include co-producer
Phil Ford
,
Gareth Roberts
,
Joseph Lidster
,
Rupert Laight
, and
Clayton Hickman
.
The Sarah Jane Adventures airs every Monday and Tuesday at 5.15pm on CBBC channel and on Wednesday and Thursday at 4.30pm on
BBC Two
in the first week moving to
BBC One
thereafter. And, new to CBBC this year, Sarah Jane and the Bannerman Road gang recount their adventures each week in
Sarah Jane's Alien Files
– the ultimate guide of everything you could possibly need to know when facing hostile aliens.
For more information and fun please visit
The Sarah Jane Adventures
website.
The Sarah Jane Adventures is a BBC Cymru Wales/Children's BBC Production.
Interviews with the cast:
Elisabeth Sladen steps back into the boots of Sarah Jane Smith...

Why should newcomers watch The Sarah Jane Adventures?

Well, it's an adventure and I think all children love an adventure. It allows your imagination to go to places maybe other programmes can't take it but in a very supported way because you know everything's going to be alright in the end. Sometimes we deal with quite weighty matters – bullying, or being left alone or dying – all sorts of things that can happen to children growing up, but it's in a very supported environment so children can actually go there, experience the adventure, and come back quite safely.

What thrills and spills can viewers expect from this fourth series?

New monsters, new protagonists and old ones returning which I think is nice. They're quite tangible our monsters. They're in the scene with you – it's a reality. You can poke them, they breathe on you, you can touch them. But at the same time there's a great deal of humour there. I am allowed to become something other than just Sarah Jane in boots and jackets this time and I don't think anyone will guess what it's going to be and it was such fun! I wish I could say more but I can't!

You mention jackets and boots, do you like Sarah Jane's costumes?

I do actually – I love them! Stewart Meachem is our costume designer and I thought I could shop but I don't have anything on him! I have to have pit-stops when I go shopping with him! We do a big shop at the beginning and I love the jackets he gets for me. I think we've found Sarah Jane an iconic look with the jacket and the boots.

Have you been surprised by the response to The Sarah Jane Adventures?

When you're filming you're in a bubble and you do your work and quite often you forget that people are going to see it later. It's quite a shock sometimes! I had no idea the response was going to be this huge. It is an incredible thing that Russell has done to bring this character back to such enjoyment for the viewers. It's such a great standard to set and we are all so pleased to be part of that.

What sort of feedback do you get?

I get very varied feedback but I've never had an unpleasant letter! I have firemen writing saying they'll come and clean my house and make me a meal, parents writing on behalf of their children who are not even at school, 92-year-old Elsie who says it's the only programme she'll watch on TV! And also, of course, people who remember Doctor Who with affection from the past. It is really bizarre because I never tried to hang on to the programme but it kind of hung on to me and I'm forever grateful for that because I never ever expected to be known for a particular role. I'm a jobbing actress and how lovely to work in something that I love doing.

Sarah Jane is consistently voted Doctor Who's best loved companion. What do you think is the secret of her appeal?

I'd bottle it if I knew! I'd have to go back to Barry Letts – my first producer on Doctor Who. I owe him not just a great debt for work but for the way he handled the programme and my character. I was also fortunate with my Doctors, Jon Pertwee and Tom Baker, because I think we worked so well together. There are things I aspire to in Sarah Jane. She has a huge frailty but she won't give up. She almost has a child's sense of what's fair and what's not fair. It's something you have to lose as an adult but she just doesn't let go of that and maybe that is something that makes people feel safer. I don't know what her appeal is really but I love her – I really do.

Do you have a favourite Doctor?

It's such a revelation each time because they are chosen for a specific reason – they are good actors and they have something extra, something different that they can bring to it. It's a joy to watch him being regenerated and I have no problem with that. It's like I see them and think 'Oh, that's what the Doctor looks like now'. I'm closest I suppose to Jon and Tom because I worked with them longer and they were both very supportive. I had a lovely card from Tom when I was reinvented in the attic.

What was it like working with the new Doctor, Matt Smith?

He's such an inclusive actor. It's my favourite way of working. He'd just come back from Los Angeles and he was absolutely jetlagged and they gave him this big scene to start with. He walked into this unfamiliar set-up and no matter who you are I think you feel that. He just had a week and he was really, really good. I think people will love it actually.

How do you find working with 'the kids'?

They are the best, they really are. I cannot tell you what they do! They are just so lovely. I love working with them. They are so funny and irreverent with each other but they're much nicer to me!

Do you have to do lots of stunts?

Just going into the attic is a stunt! You come in the door and you go down two steps that are so strangely positioned, I'm still trying to get down them without looking! Then I have to circumnavigate the pillar and step over the track of the camera. And God help you if you're in the way of the doors when the steam comes out. If you're in the wrong position when the steam comes out your hair just goes wild!

So you've talked about the villains and the monsters. Which is the toughest adversary you've had to face?

Well they all have something different. They all have something that you've got to be aware of. This year we have the Nightmare Man, who is devious, devious beyond anything I could think up. And then we have Androvax coming back but in a very different guise. And then we have the new monsters, The Shansheeth who are I think pictorially the most stunning we have ever had. They are operated with the puppeteer's hand up the neck so quite often you're in a scene and it cuts and this bird head flops on your shoulder because the hands got to rest and it goes for the nearest shoulder! It's like that moment on Parkinson with Emu!

What is the most rewarding thing about doing The Sarah Jane Adventures?

Just being Sarah Jane actually. Just being in the moment in that attic with Clyde, Rani and Luke – with an occasional phone call from K-9! Just being aware of that whole amazing programme, that all the wonderful technical people put their input into and that everyone enjoys so much. And we are very, very grateful to the audience because they actually care what happens to the characters. Because if you care enough about someone then you don't want to let them go!
A few words from Matt Smith about appearing in the Sarah Jane Adventures...

How did your role in The Sarah-Jane Adventures come about?

The opportunity arose towards the end of filming my first series as Doctor Who and I jumped at the chance. I knew Russell [T Davies] was going to write the episodes, I'm very fond of Lis [Sladen], she's just lovely, and it's a privilege to be working with two former companions. I felt such a bond working with the actresses and loved picking their brains about working with their Doctors in the past.

Who provides the main threat to the Doctor in these episodes?

The Shansheeth are prominent in these episodes, they are Galactic coffin bearers of the Cosmos and very impressive! They are brilliant, the best. I definitely think we should get them into an episode of Doctor Who.

Tell us about working with Katy Manning, who was the doctor's companion Jo Grant in the Seventies?

Working with Katy Manning has been wonderful. She's a lovely person, mad as a box of fish, but totally dynamite! And she is so forthcoming about her time on Doctor Who. She has made me aware of what a privilege it is [to be playing Doctor Who]. I'm constantly aware of Doctor Who's rich history. There's a line in my Sarah Jane episodes that refers to a ventilation shaft – when Lis was Tom Baker's assistant her character got stuck in a lift shaft so my line is: 'ventilation shaft... that takes me back – or maybe it's forward.' So I am aware of the heritage and aware too that I am just another stage in this very brilliant and wonderful show.
Daniel Anthony is back at Sarah Jane's side as wisecracking Clyde

Describe Clyde's character?

Clyde would be my best mate ever. He's really funny and a laugh, so I'd definitely hang out with him. This series he's a lot older and more mature. You'll also see a little bit of romance and a lot more jokes.

What aliens will we be meeting in this series of The Sarah Jane Adventures?

We've got a couple of new aliens. In the first story we've got the Nightmare Man who puts people into nightmares and freaks them out. We've also got the Shansheeth who are completely new and were created for us. They're like massive vultures.

Do you like doing the stunts?

For one stunt I had to dive away from an explosion. Obviously, I watched it afterwards as I felt like Tom Cruise in Mission Impossible – it looks wicked. It's quite daunting before you go for the take because you know you can only do it once, but it's good fun when it all comes together.

What was it like working with the Eleventh Doctor, Matt Smith?

Matt Smith is an absolute legend, he's well cool. Last year we worked with David Tennant and he was wicked, so I think all the Doctors must have to have this quirkiness about them as they're both really chatty and lovely people. I guess it's because on Doctor Who they work with so many people they have to be really social and make people feel comfortable. Matt Smith loved his time on The Sarah Jane Adventures as far as I know and it was lovely to meet and work with him.

This series the gang do some time travel. Can you tell us about it?

We do travel back in time looking for specific objects. I travel back to when the Nazis were here, Rani travels to Tudor times – she's in a corset with this massive dress which she loved - and Sarah Jane goes to a haunted house.

Where would you go if you could travel back in time?

If I could go back in time I'd probably go back to when dinosaurs roamed the earth. When I was little I loved dinosaurs – so I'd love to see Raptors and a Tyrannosaurus Rex!
Anjli Mohindra returns as the character she's been playing for two years – smart and sassy Rani Chandra

Are you like your character?

Rani's like a much younger version of me. Like me she'll go in, do something then question it later. I think a lot of Sarah Jane's gang are like that. They'll go off and do things and then work out what's going on later. Because you can't really deal with the situations they're faced with by thinking about them first, you've got to go with your gut and do what you think is best.

How does the relationship between Rani and Clyde develop in this series?

It's always very playful with Rani and Clyde. I can't say whether or not they'll get together but they do get closer. There's all sorts of interesting things happening in this series, the sort of things that people go through when they're 17. Relationships build and you see what impact that has on the friendship group as well.

What's the best alien you've encountered whilst filming the show?

I quite like Androvax because you never know where he is. He's within someone but that person is trying to pretend that Androvax isn't inside them. From an actor's perspective it's quite fun and a real challenge when he takes you over.

Are there ever times you actually get scared during filming?

Yes, sometimes you do. Especially with the haunted house stuff we did in Series Three. We were actually filming in a haunted place and I don't believe in that stuff at all, I think there's always a scientific explanation for everything, but there were so many sightings that when we came to do scenes when we were running away from stuff you think, there might actually be something here. Acting does get fused with reality.

This series sees the gang go back in time, if you could go back in time to any point in history, when would it be?

I think I'd quite like to go back to slave trade times and try and show people how wrong it is. I'd like to go back to a big event in history and see what life was like, like to try and understand why people followed Hitler or used slaves.

What's been your favourite episode of this series?

I love episodes five and six, we've got a guest on the show that all the fans will be really excited about. And it's really farcical – it's a bit like an episode of Scooby Doo!
Tommy Knight plays Sarah Jane's adopted son Luke

How has Luke changed since The Sarah Jane Adventures started?

He's changed in that he's maturing, he's not so much the nerdy kid anymore – although he still is a massive geek. But he's getting cooler and wearing nicer clothes!

What's in store for him this series?

Luke's going off to university, he did really well in his A levels and got all A*s, but he's having fears about leaving and the Nightmare Man sees those fears and starts picking on him. But he goes off to University, has a whale of time and comes back every now and again to save the day!

What's it like to film the special effects?

I've got a wild imagination so we'll do a scene when I'm supposed to be in a void and I'll just be surrounded by green. And sometimes we're supposed to be scared of an alien, but it's just a tennis ball on a big long pole. They will wiggle it around and the director shouts, 'Be scared, be scared!' The first time I did it we were supposed to be being chased up the stairs by an alien and trying to be scared of the director with this pole and tennis ball so we laughed a lot. But after a while you realise you just need to focus and get on with it. I've also done all my own stunts so far – I'm like Jackie Chan!

How do you cope with the attention that comes with The Sarah Jane Adventures?

I pick my little brother up from primary school and you can kind of imagine what that's like as a lot of them watch the show. My brother gets kudos for it though – everyone loves him because his big brother's on the telly! And once I was walking around Bluewater shopping centre with my mates and this group of people stalked us from shop to shop and when we turned around they'd hide!

What's your favourite thing about filming The Sarah Jane Adventures?

My favourite scenes are always when we have explosions or dunkings. In the very first scene we shot for this we had to blow up the Slitheen. We had these big machines in front of us filled up with goo, then there was a countdown and we got bombarded with this gunky, gooey stuff. We had to be straight faced but we had goo dripping down our faces – it was so funny!
Series Four Episode Summaries

The Nightmare Man, by Joseph Lidster

Part One: Luke faces life-changing events, and Bannerman Road will never be the same again. But when Sarah Jane's son has his first nightmare, he's haunted by a dark figure from his dreams. A strange entity is reaching out to our world, with terrible consequences for the whole human race.

Part Two: With Luke, Clyde and Rani trapped in a bizarre dreamscape, Sarah Jane must fight alone! As the Nightmare Man grows stronger, only K-9 might hold the key. But can Luke summon the courage to face his adult life before the whole world is trapped in an endless nightmare?

The Vault Of Secrets, by Phil Ford

Part One: When an old enemy, Androvax the Veil, returns to Earth, the gang face a dilemma – should they trust him? Or does the legendary Vault hold an even greater terror? But a second threat arises, when android guardians threaten to destroy anyone who uncovers their secrets.

Part Two: As the battle between Sarah Jane, Androvax and the androids reaches its climax, Rani has to save her own mother from being caught in the crossfire. But as the Vault opens the destiny of the entire Veil species is at stake. Is it too late to save them?

Death Of The Doctor, by Russell T Davies

Part One: When the Doctor is declared dead, old companions Sarah Jane and Jo Grant meet for the very first time, and join forces to discover the truth. As an interstellar conspiracy gathers around UNIT HQ, Clyde finds that he holds the fate of the Time Lord in his hand – quite literally!

Part Two: Old friends fight together to make one last stand against the sinister Shansheeth. But with Clyde and Rani trapped in terrible danger, Sarah Jane and Jo Grant realise their worst fears – their friendship with the Doctor might be the very thing that dooms them.

The Empty Planet, by Gareth Roberts

Part One: Clyde and Rani wake up one day to discover that they are the only survivors of the human race! The whole of Earth is empty – even Sarah Jane has vanished. But a deserted London holds terrors of its own. Strange forces lurk in the shadows, as mysterious visitors approach!

Part Two: Clyde and Rani meet their enemy, as the Robots arrive on Earth – but what do they want, and where has the human race gone? It's a race against time, but without Sarah Jane's expertise, Clyde and Rani must trust each other like never before if they're to save the whole world.

Lost In Time, by Rupert Laight

Part One: A harmless investigation turns into an epic quest across time and space. Sarah Jane and the gang are separated by the enigmatic Shopkeeper, and find themselves in three different time-zones throughout history – doing battle against ghost hunters, Nazis, Tudors and a mysterious parrot called Captain!

Part Two: While Sarah Jane tries to prevent a future tragedy, Clyde has to take on the Third Reich single-handed! But Rani discovers to her horror that the march of history cannot be stopped, as a greater danger from the Time Vortex threatens to consume them all.

Goodbye, Sarah Jane Smith, by Clayton Hickman and Gareth Roberts

Part One: Sarah Jane faces her saddest day, as she realises that no one can defend the Earth forever. She's saved the world so many times, but must now hand over the task to safer hands. Clyde and Rani are distraught, and the forces of darkness gather as the inevitable day approaches.

Part Two: Sarah Jane has gone – but a new regime begins at Bannerman Road! Clyde and Rani must face the fact that nothing lasts forever – but can they still unite as a team, to face a new and deadly threat from outer space? Or is the old gang finished for good?
Media Coverage:
Daily Star(4th) -
Doctor Who gets help from old friends
The List(4th) -
Old Doctor Who stars save Time Lord
Seenit(4th) -
Sarah Jane Adventures returns this month
Digital Spy(1st) -
Sladen 'can't explain Sarah Jane popularity'
Digital Spy(1st) -
'SJA' Sladen praises Smith guest stint
Digital Spy(1st) -
Matt Smith 'loved SJA guest appearance'
BBC Doctor Who(1st) -
The Return of Sarah Jane Smith!
Rapid Talent(30th) -
The Sarah Jane Adventures Returns
BBC Doctor Who(30th) -
A Date with Sarah Jane Smith & the Doctor!